Terms and Conditions
TERMS AND CONDITIONS OF SALE ("SALES TERMS")
These Sales Terms are applicable to the Upgrade Innovations Online Shop ("Online Shop") at the www.UpgradeInnovations.com and to orders and sale transactions for products available at the Online Shop ("Product").
The Online Shop is owned by and operated by Upgrade Innovations Inc. (herein, "Upgrade Innovations", "we" or "us" as the context may require). The Online Shop is owned by and operated by Upgrade Innovations. Upgrade Innovations is the seller of the Products.
With regard to your purchases in the Online Shop we will communicate electronically by sending email or posting electronically. You agree that all agreements, notices, disclosures and other communications that are provided electronically satisfy any legal requirement that such communications be in writing.
Please note that these Sales Terms give you specific rights, and you may have other rights, which vary from jurisdiction to jurisdiction.
ABOUT THESE SALES TERMS
These Sales Terms only apply to purchases made in this Online Shop. Other Upgrade Innovations web sites on the internet may have different terms and conditions. From time to time Upgrade Innovations may change or alter these Sales Terms which will be applicable to orders placed on or after the effective date stated by Upgrade Innovations
Information contained in Upgrade Innovations' advertising, brochures or other written materials, on Upgrade Innovations web sites or given to you, is for information only and not an offer by Upgrade Innovations to supply any Products.
BY PLACING AN ORDER FOR PRODUCTS YOU AGREE TO BE BOUND BY AND ACCEPT THESE SALES TERMS.
Additional terms and conditions are required to be accepted for Employee or other purchase programs.
PLACING AN ORDER
To be able to buy Products you have to:
Provide your name and address, phone number, email address, payment details and other required information.
Be at least 18 years of age.
Be the owner or authorized holder of a valid payment card. You may place an order by clicking on the "Add to cart" button and proceeding to the checkout page.
ORDER PROCESSING AND CONTRACT FORMATION
You agree that your order is an offer to buy the Products listed in your order under these Sales Terms. All orders must be accepted by Upgrade Innovations. We may choose not to accept abnormal orders and orders which Upgrade Innovations suspects are not placed in good faith.
After having received your order, Upgrade Innovations will send you an order confirmation via email with your order number and details of the items you have ordered.
Acceptance of your order and the formation of the contract of sale between Upgrade Innovations and you will not take place unless and until you have received your Upgrade Innovations order confirmation email.
You have the option to cancel your order at any stage by contacting Upgrade Innovations by calling 1.604.492.1654 before we have sent Your Upgrade Innovations Order confirmation email.
PAYMENT
Payment shall be made by a credit or debit card approved by Upgrade Innovations, Stripe, or PayPal. Approved credit and debit card types are listed in the Online Shop. You have to supply your payment details when you place your order. Your credit card may not be accepted if: (i) the name on the credit card does not match the billing name given or (ii) the billing address given does not match the bank records. Your payment will be charged on shipment of the ordered items. We will not supply the items to you until payment is confirmed. As your Order confirmation email is your proof of purchase, we recommend that you save and print that document for your potential future use.
PERSONAL DATA
The Upgrade Innovations privacy policy and additional provisions in these Sales Terms govern the use of your personal data. Purchasing of goods in the Online Store requires that you accept the Upgrade Innovations privacy policy and the processing of personal data as described in the Upgrade Innovations privacy policy, as defined in the following link: www.upgradeinnovations.com/privacy-policy
Lifetime Warranty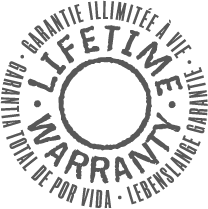 Upgrade Innovations warrants all products against defects in materials or workmanship for the usable life of the product. This warranty does not cover damage caused by normal wear and tear, misuse, alteration or abuse. Shipping charges to Upgrade Innovations for a defective product are not covered.
Should we determine a product is covered under this warranty, we will repair it or replace it at our option.
To obtain warranty service:
Package the product securely. Please include your name, return address and a brief description of the problem.
Return the product to:
Upgrade Innovations
Attn. Warranty
964 Walls Avenue
Coquitlam, BC
Canada, V3K 2T3
If you have any questions, please email us at
info@upgradeinnovations.com.
SHIPPING INFORMATION
We are located in Coquitlam, Canada and will ship our products almost anywhere.
Certain restrictions and duties may apply to international destinations. Shipping restrictions may also apply to some destinations due to regional distribution agreements.
We take care to insure all our shipments. Unfortunately this means we cannot ship to a P.O. box address.
Shipping within Canada
For our Canadian customers, the taxes are included upon checkout.
Canada Post Expedited Parcel™ – 2 days and up to 7 business days
Canada Post Xpresspost™ – 1 day and up to 3 business days
FedEx Priority – 1 business day
FedEx Economy – 2 business days
Shipping outside of Canada
Orders shipped outside of Canada are not charged Canadian taxes, however all shipments pass through customs and are subject to import duties, taxes, and custom processing fees.
A customs invoice will arrive with your parcel or may follow in the mail. Recipients are responsible for paying these additional fees. We are unable to provide estimates for any such fees; check with your local customs office for more information.
Shipping to the USA
FedEx Priority – 1 business day
FedEx Economy – 2 business days
DHL Express Worldwide – 1 business day
Upgrade Innovations products are certified under CUSMA.
International Shipping
FedEx Priority – 1 to 3 business days
FedEx Economy – 2 to 5 business days
DHL Express Worldwide – 1 to 3 business days
Upgrade Innovations products are certified under CETA for duty free importing to European countries.
Items Damaged in Shipping
If your shipment appears to be damaged upon arrival to you, DO NOT ACCEPT the shipment. If, after opening your shipment, you find that you have received damaged or defective merchandise, please hold on to the package and the goods in case we have to process a claim. We or the shipping company might want to inspect the parcel.
You must notify the shipping company and us within 5 days of receipt of delivery. You can email us at info@upgradeinnovations.com, stating in the subject line "Damaged in shipping". To contact your local postal service, call or visit them.
RETURN POLICY
Our products are guaranteed for defects in material and workmanship. See Customer Center >> Product Warranty. If a product that you purchased from us does not meet your expectations, return the item with proof of purchase for exchange, refund or repair.
Returns for full-value refund or exchange are accepted within 14 days after you received the shipment and when the goods are returned to us in as-new condition. We do not accept product returns that are not in new condition or older than 14 days. Each item will be inspected upon arrival prior to issuing a full refund.
Before returning goods, please ensure the following:
Package the product securely. Please include your name, return address, and invoice, along with a reason for the return.
Return the product to: Upgrade Innovations, Attn. Warranty, 964 Walls Avenue, Coquitlam BC, V3K 2T3, Canada
Within Canada, return items via prepaid, insured regular parcel post. We will not accept CODs or courier deliveries.
From outside Canada, ship goods prepaid, by insured post. To avoid unnecessary delays and cost, ensure shipping label is created for return/warranty.
Please allow 2 weeks plus shipping time for your repaired or new product to be returned to you at our expense. We are not responsible for any taxes or duties that may be assessed on a return shipment.
OUR LIABILITY
These Sales Terms set out the full extent of our obligations and liabilities in respect of the Products. To the extent permitted by applicable law, there are no other warranties, conditions or other terms that are binding on us than the ones mentioned in these Sales Terms. In particular, we will not be responsible for ensuring that the Products are suitable for your purposes.
We shall not be liable whether in contract, tort or otherwise for any economic losses (including without limitation loss of income, loss of profits, loss of contracts, business or anticipated savings), loss of data, loss of goodwill or reputation or for any special, indirect, consequential or punitive loss or damage of any kind howsoever arising. Some jurisdictions do not allow the exclusion or limitation of incidental or consequential damages, so the above limitation may not apply to you.
GENERAL
If any provision or provisions of these Sales Terms shall be held to be invalid, illegal or unenforceable, that provision shall be enforced to the fullest extent permitted by applicable law, and the validity, legality and enforceability of the remaining provisions shall not in any way be affected or impaired.
CONTACT DETAILS
Upgrade Innovations will assist you with any questions. You can contact us by phone 1.604.492.1654 Monday through Friday 9am to 5pm PST.
GOVERNING LAW
These Sales Terms shall be governed and construed in accordance with laws of the Province of British Columbia, Canada.