The Dogtown Bracket is designed to provide a variety of efficient mounting solutions to the ARRI SRH 360 system. 
Note: Dogtown Bracket is not compatible with the ARRI SRH-3.
Mounting the ARRI FOMA ERM Radio Module:
The External Radio Module (ERM) has a machined housing that extends out on each side to provide 1/4-20 and 3/8-16 tapped holes.
To mount the ERM efficiently to the Dogtown Bracket, M5 hex socket button head screws and washers are provided for users to quickly mount or un-mount the ERM with a 3mm Allen key.
With the supplied washer, the M5 screws can be used to mount the ERM, using the 1/4-20 and 3/8-16 threaded holes as clearance holes for the smaller diameter M5 screw.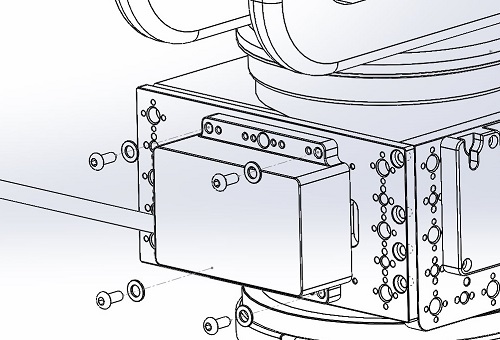 Note: The washer under the screw head is important, as without the washer, the screw head would be resting on the chamfers of the larger tapped holes. The washer will ensure the screw head makes proper contact with the mounting surface.
Multiple M5 mounting patterns are located on each side of the Dogtown Bracket assembly to orient the ERM in various positions.
Battery Plate Adapter Mounting:
Use provided M3 x 14mm and M3 x 10mm screws (depending on the counterbore depth on the battery plate adapters) to mount Gold mount or V-mount battery plates.  Check counterbore depth and screw length to ensure there is proper engagement into the Dogtown Bracket. 
Note: some battery plate manufacturers provide imperial 4-40″ screws to mount battery plates. Use the provided metric M3 mounting screws to mount battery plate adapters.
Multiple battery plate mounting patterns are available on each side of the Dogtown Bracket to position battery plate adapters to preferred orientation, especially when remote head is being used in overslung or underslung mounting positions.
ARRI 3/8″-16 Pin-Lock and SmallHD 1/4″-20 Pin-Lock
Utilize industry standard non-twist mounting patterns to mount accessories to the Dogtown Bracket.
Mount articulating arms, such as our Rudy Arm, for mounting onboard monitors or other components.
Weight: 1.25kg / 2.75lbs
Solidly built with premium 6061 aircraft aluminum, Mil-Spec anodizing & stainless steel hardware.
Made in Canada. CUSMA Qualified. CETA Qualified.