The Battery Mounting Plate can be used to mount wireless video systems or batteries by using standard battery plate adapters (Gold Mount, V-Mount, B-Mount and Micro Mount). Battery plate adapters can be mounted to both sides of the battery mounting plate for unique build options.
Attach the Battery Mounting Plate to a spigot mount, Whaley Rail Clamp, or Mafer Clamp with the provided screws. The Battery Mounting Plate is also outfitted with SmallHD 1/4″ Pin-Loc and Arri 3/8″ Pin-Loc patterns for interfacing to non-twist mounting solutions.
Mafer Clamp and Battery Adapter Plates are not included
Battery Plate Mounting Patterns
The Battery Mounting Plate is outfitted with an array of M3 battery adapter plate mounting holes for Gold Mount, V-Mount, B-Mount and Micro Mount patterns.
Two lengths of M3 screws are provided as different battery adapter plates have varying counterbore depths.
Mounting to Mafer Clamp
M5 and 1/4-20 Flat Head mounting screws are provided for mounting plate to a Mafer Clamp, to achieve two different setups.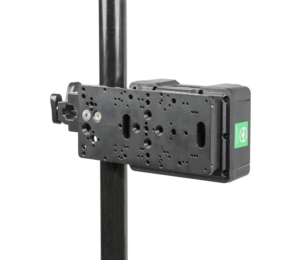 Make use of a single 1/4-20 Flat Head screw and a single M5 Flat Head screw to mount in this orientation so that both sides can accommodate a battery plate adapter.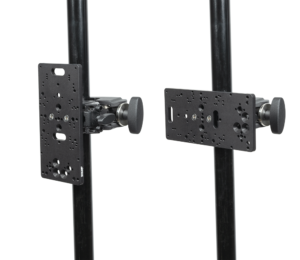 Make use of both M5 Flat Head screws to mount in either vertical/horizontal position.
Solidly built with premium 6061 aircraft aluminum, Mil-Spec anodizing & stainless steel hardware.
Made in Canada. NAFTA Qualified. CETA Qualified.