What comes in the DIT BOX
Modified Pelican Air 1535 with no foam.
Machined Aluminum Inner Bracket Assembly. 
1 x Cal Digit TS3+ with power supply modified with a 3 pole XLR
1 x Cal Digit short TB3 cable
1 x 5 port Ethernet Switch & 5x Ethernet cables
1 x Laptop Tray with 2 tie-down M6 Thumb Screws
2 x Laptop clamps, 2x tie-down M6 Thumb Screws, 4x Spacer Plates
1 x 24Volt 300 Watt Power Supply with AC cable
1 x 4 fan 12 volt PC Fan Speed Controller
1 x 120mm Silent Fan & Fan Guards
1 x DC Regulator and Distribution box with built in fan and 12V LEMO 0B Connectors (NEW)
1 x AJA Kumo power cable, 1x Cal Digit power cable, 2 x power cables for two Box IO's
1 x Decimator power cable, 1 x Ethernet Switch power cable, 1 x open lead power cable
1 x Small Cheese Plate with ARRI 3/8-16″ and SmallHD 1/4-20″ Pin-Loc mounting patterns (NEW)
1 x Bottom Mounting Bracket
4 x Delrin Feet
1 x Non-Twist C-Stand/Spigot adapter
1 x Rear cover plate for BNC and fan
2 x BNC Label Plates (NEW)
1 x 24volt 6' power extension cable
1 x Removable Lid
Full set of video cable and BNC Neutrik connectors
Includes mounting screws for all components


The DIT BOX hard mounts the following devices:
2 x FSI BOX IO (not included)
1 x AJA 32x32 or 16x16 router(not included)
1 x Decimator Q4s or Q6s (not included)
1 x Blackmagic Design UltraStudio HD Mini (not included)
1 x Cal Digit TS3+ (included)
1 x NetGear ProSafe GS105 (included)
1 x Custom 24Volt AC distribution and regulator module (included)
1 x 120mm silent fan (included)
24 x Neutrik D-Series Connectors (included)
Approx 40Ibs / 18kg with all devices installed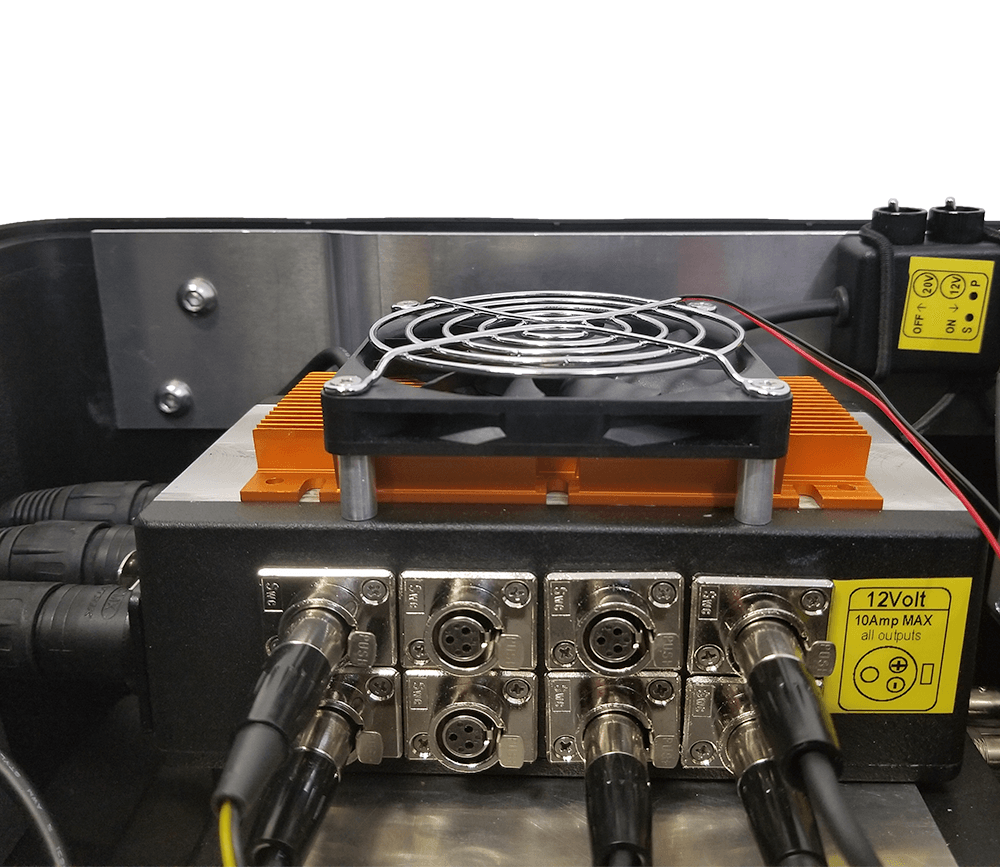 The power distribution box allows for seamless power swap between the primary power input and the secondary power input. A 3 pole XLR output for for the CalDigit's 20 volt. The 10 LEMO 0B connectors provide the systems regulated 12volt. (note, older version with mini XLR connectors shown)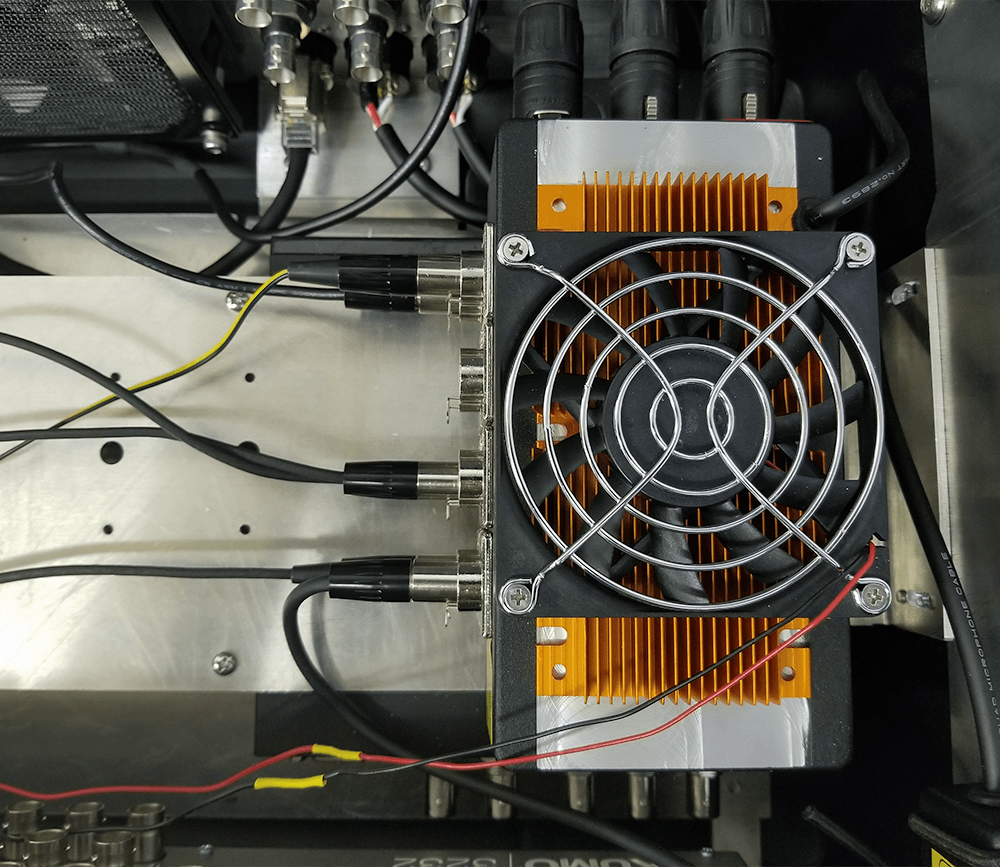 Power Supply outfitted with heatsink and small fan.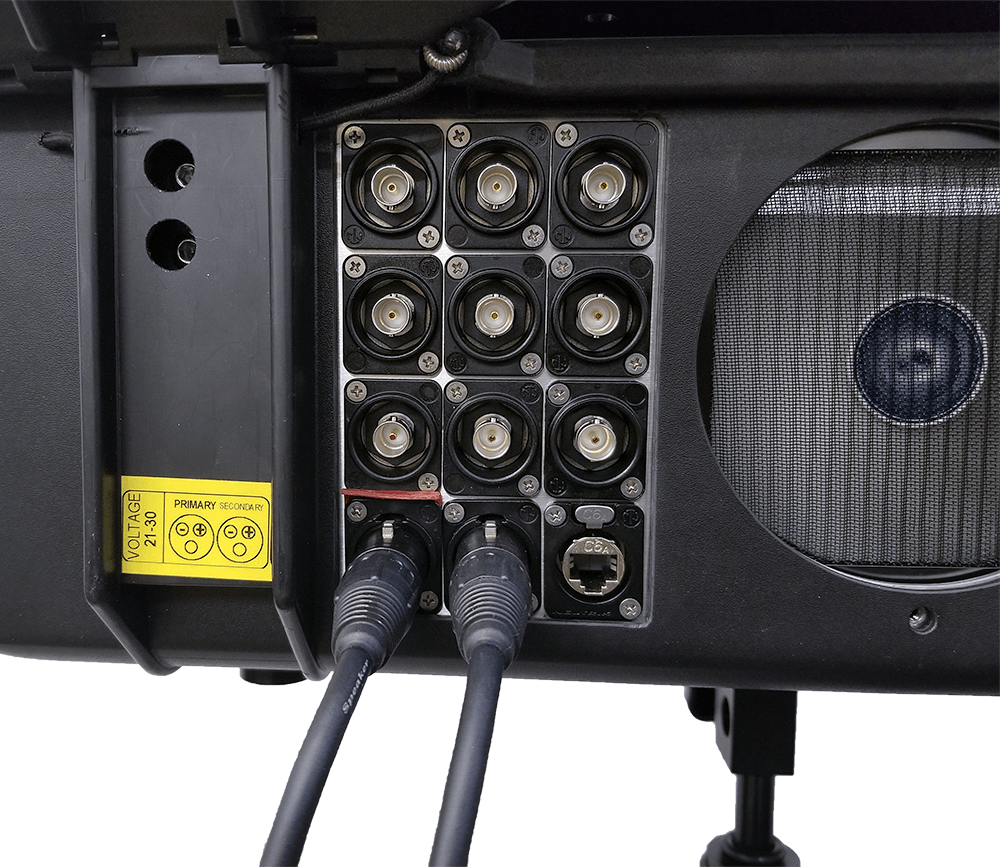 The 3 pole power inputs allow for a primary power input indicated with a red tag and the secondary backup input for batteries. Both inputs regulate input power from 21-30 volts .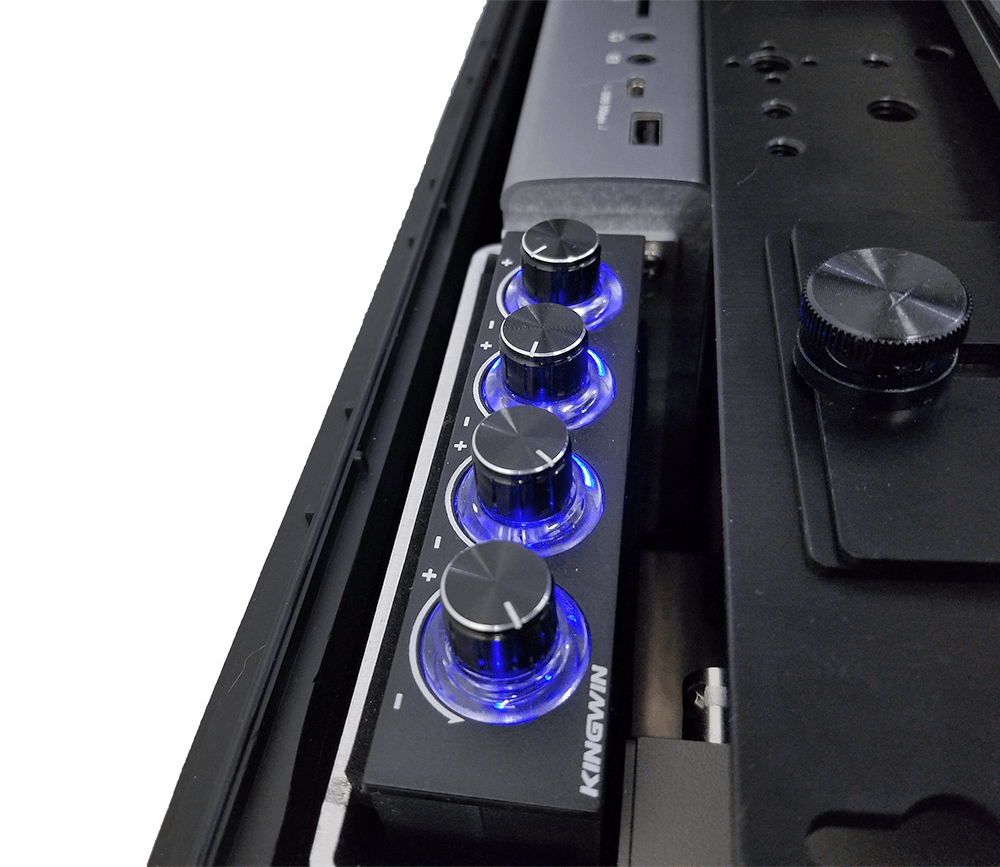 Fan controller uses a standard molex computer fan connector so any computer fan may be used. Two connectors control the 120mm rear silent running fan and the smaller power distribution fan.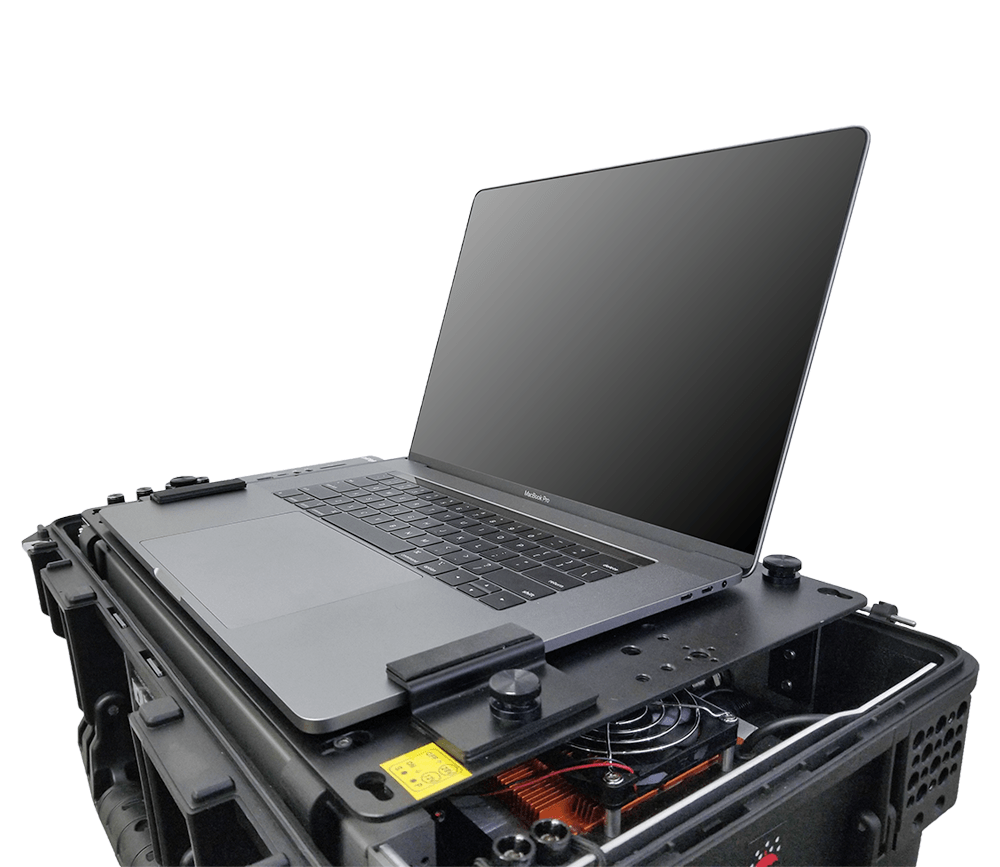 Laptop Tray accomodates Macbook Pro 13″, 15″ or 16″.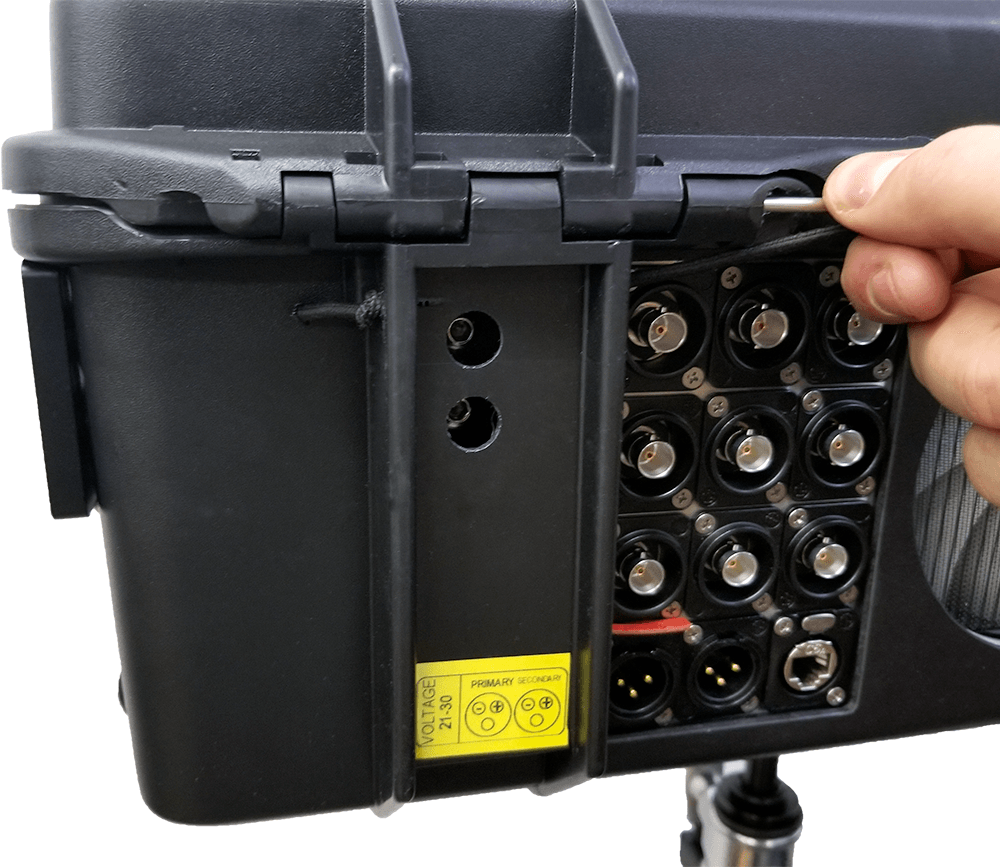 Quickly remove the Pelican Air lid by pulling out two hinge pins. Ideal to remove the obstruction of the lid during use.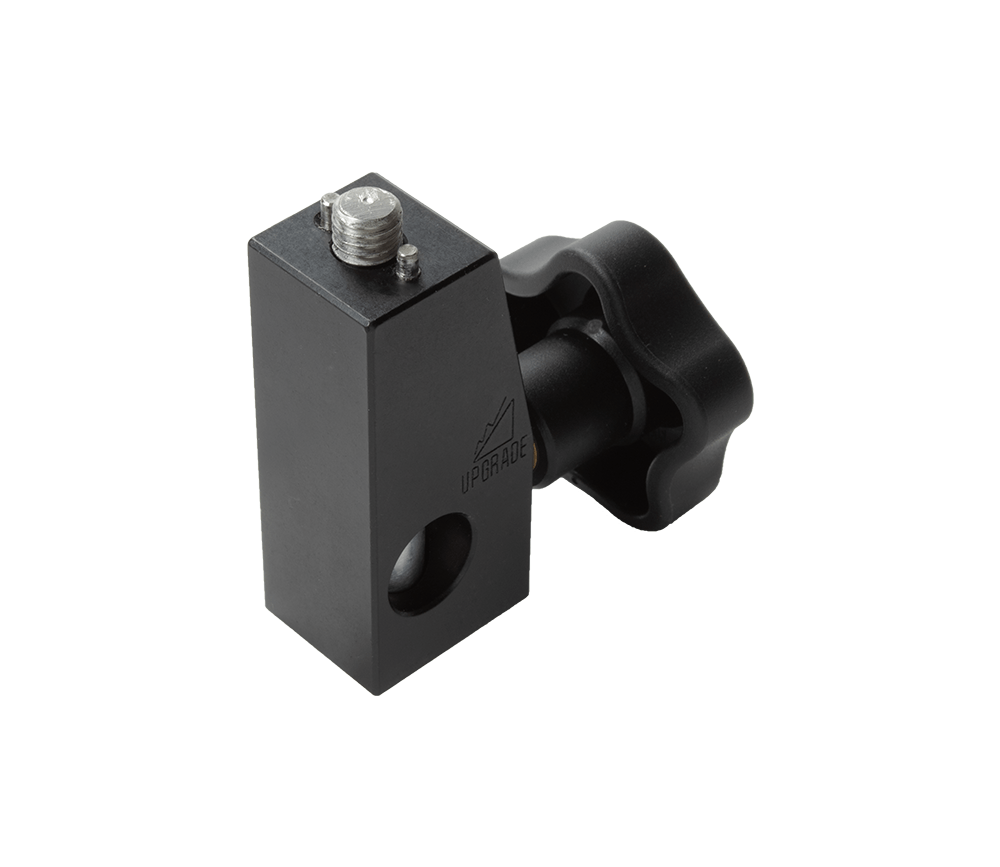 Mount 3/8″ Pin-Lock Non-Twist Spigot Adapter to bottom bracket for mounting DIT BOX to a baby pin or c-stand.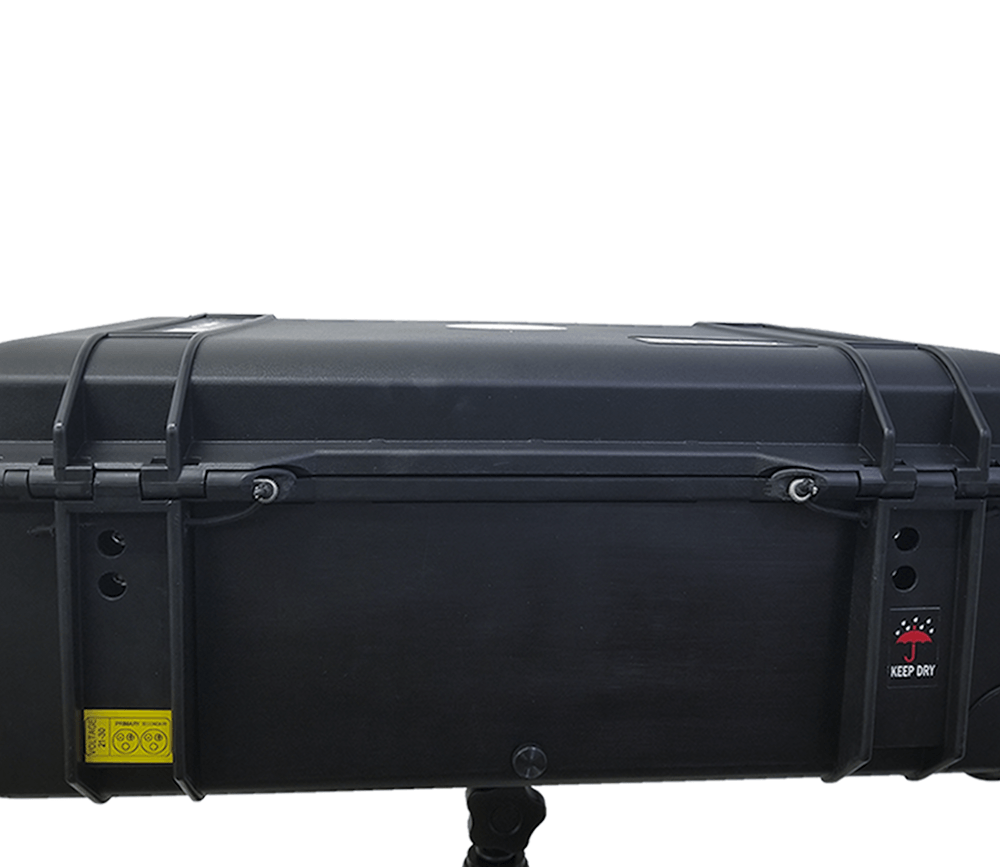 Cover BNC back panel for transport with cover plate via captive thumbscrew.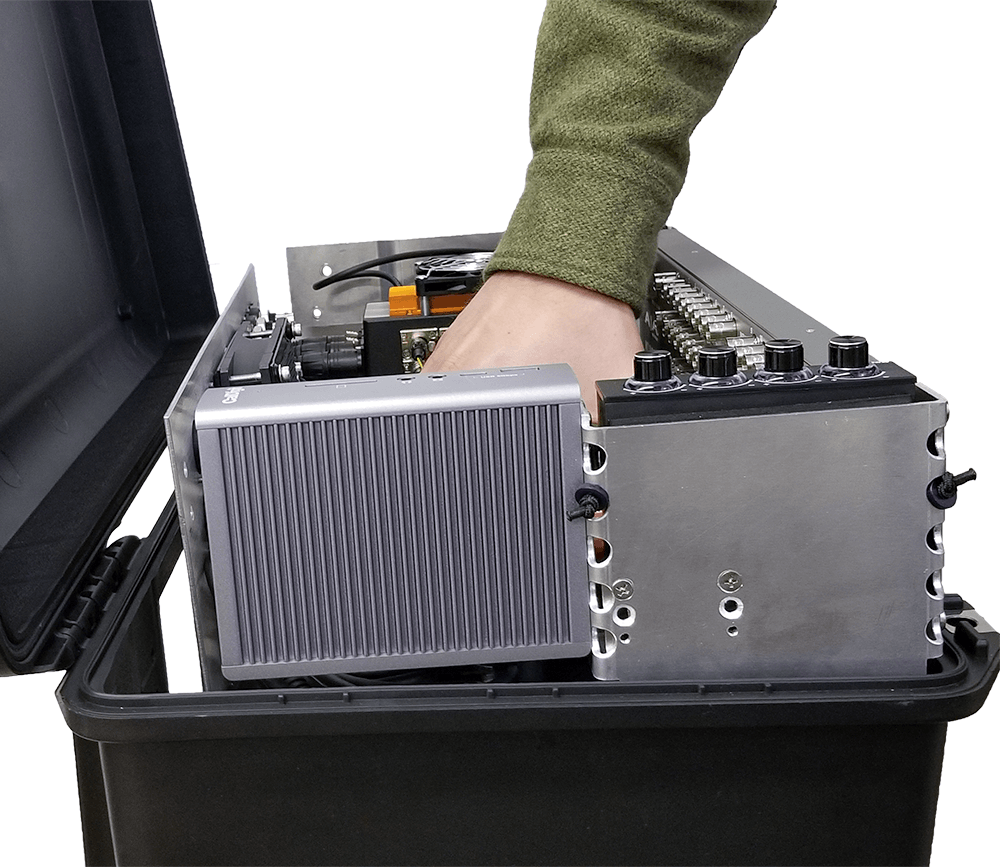 Loosen and pull out internal frame to access components when needed.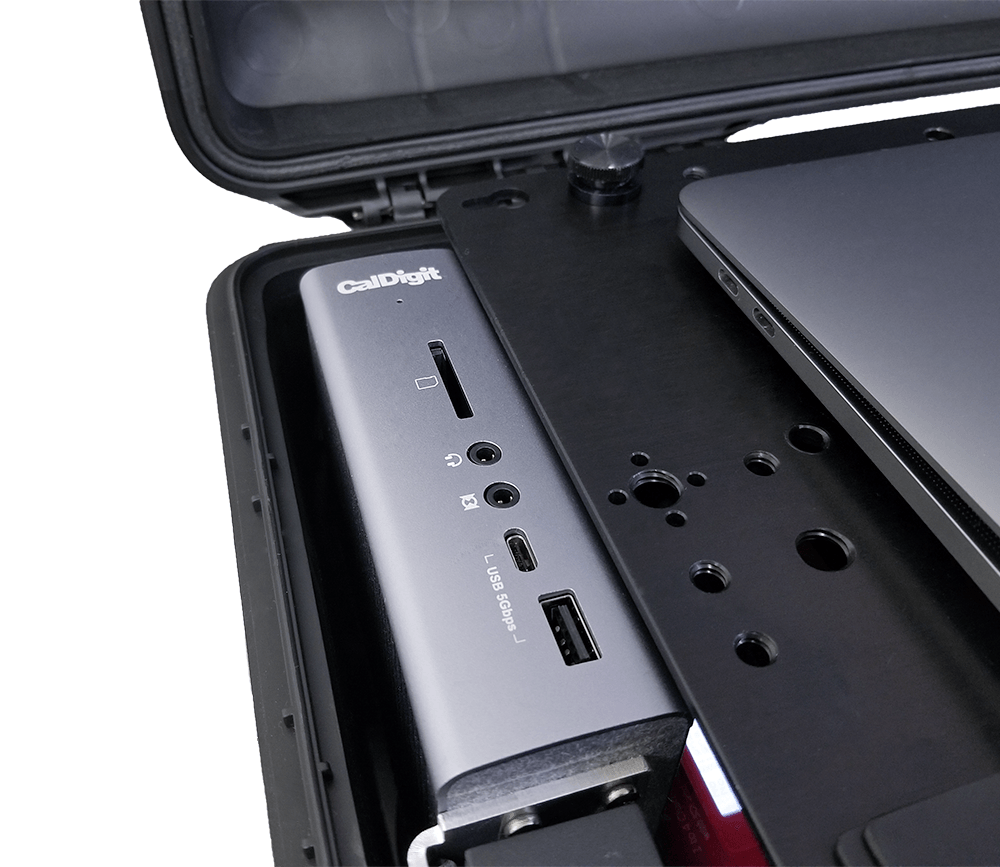 With the CalDigit TS3+ and a 5 port Ethernet Switch, control all internal devices via the Macbook Pro's Thunderbolt 3 port. 
Rear back panel to accommodate 24 x Neutrik D-Series connectors and a 120mm silent fan. New BNC label plates provide a flat surface for labelling connectors.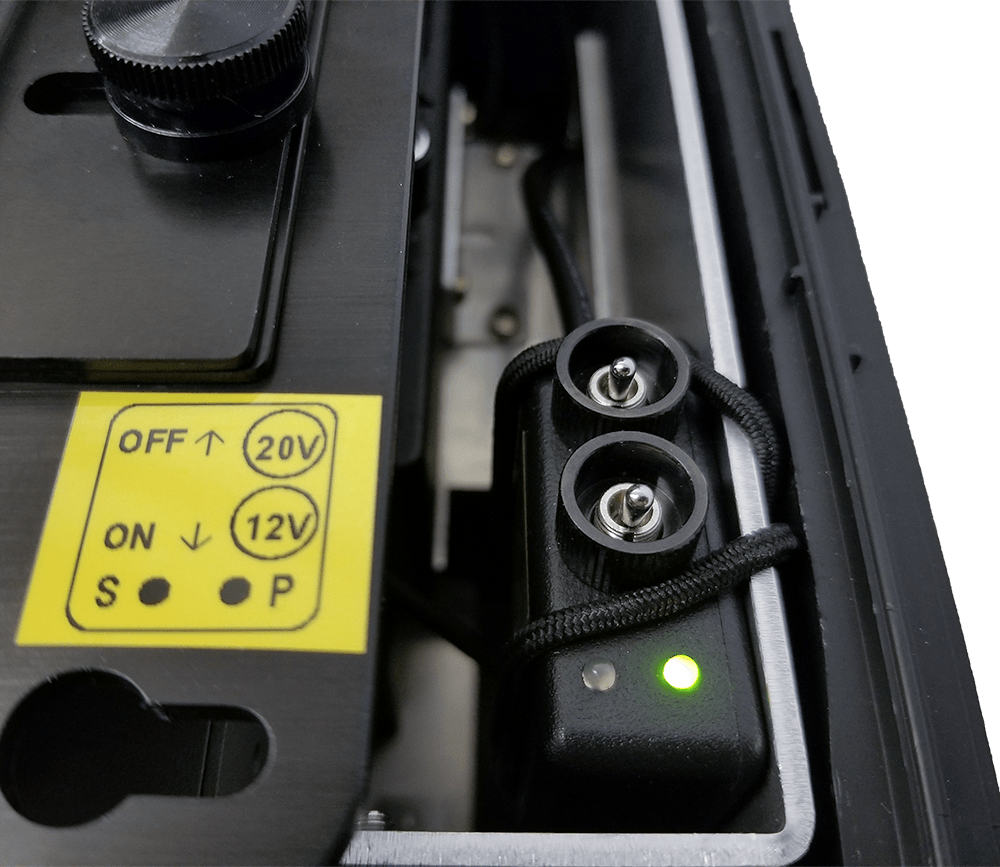 The power distribution has the ability to turn off and on both the 12V and 20V separately for resetting devices. The front LED's show if the Primary and Secondary inputs are getting power. Note that the Primary input overrides the secondary input if power is sufficient to run the DIT BOX.

Ethernet port on rear back panel for adding an additional device or another network switch.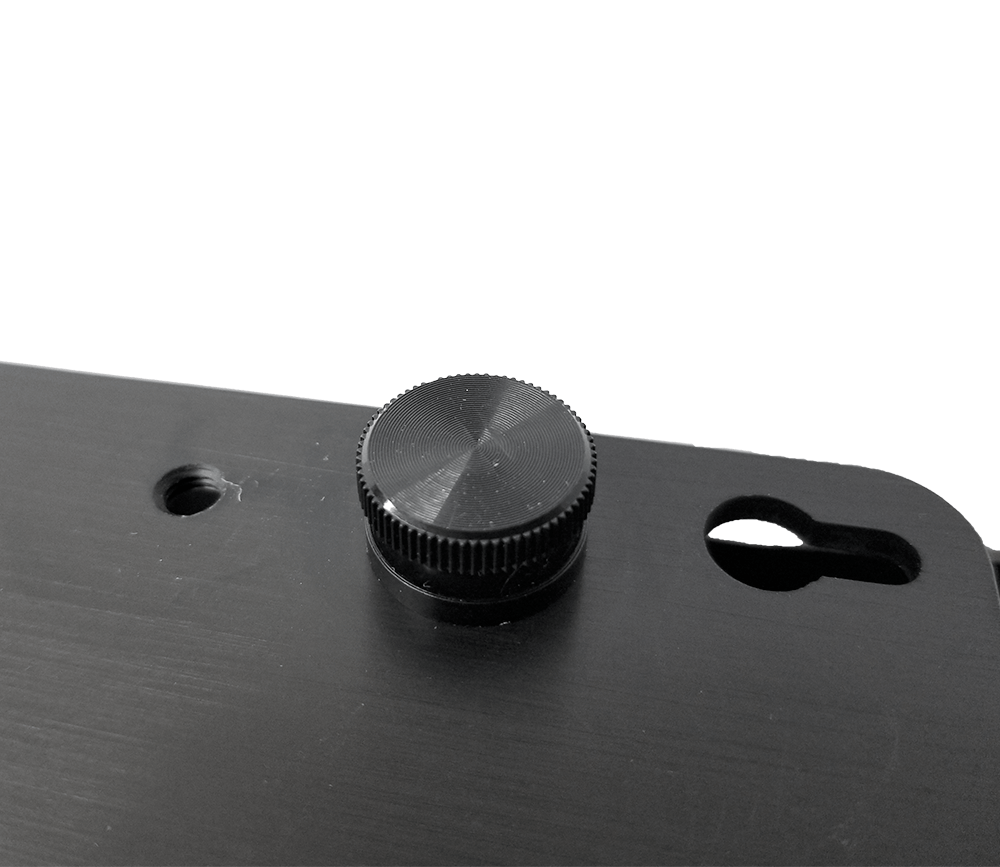 Laptop Tray is secured to case with two thumbscrews. When removing Laptop Plate, park thumbscrews into available M6 tapped hole.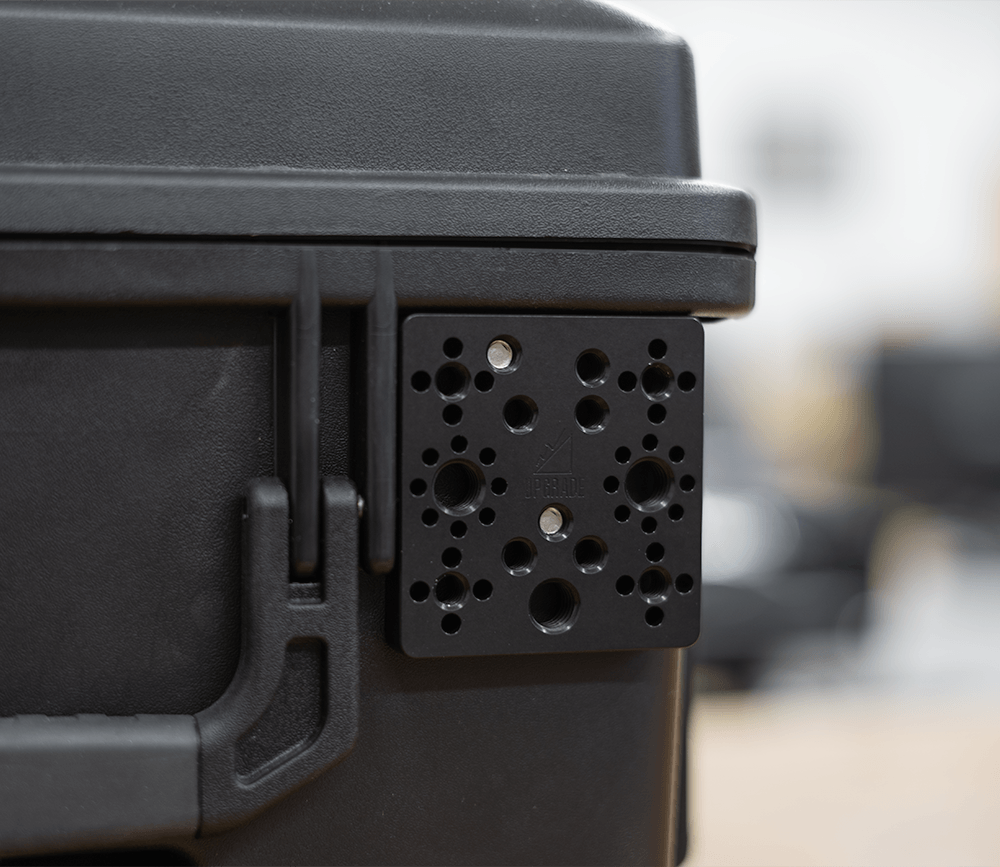 Side mounted cheese plate with ARRI 3/8-16" and SmallHD 1/4-20" Pin-Loc tapped holes.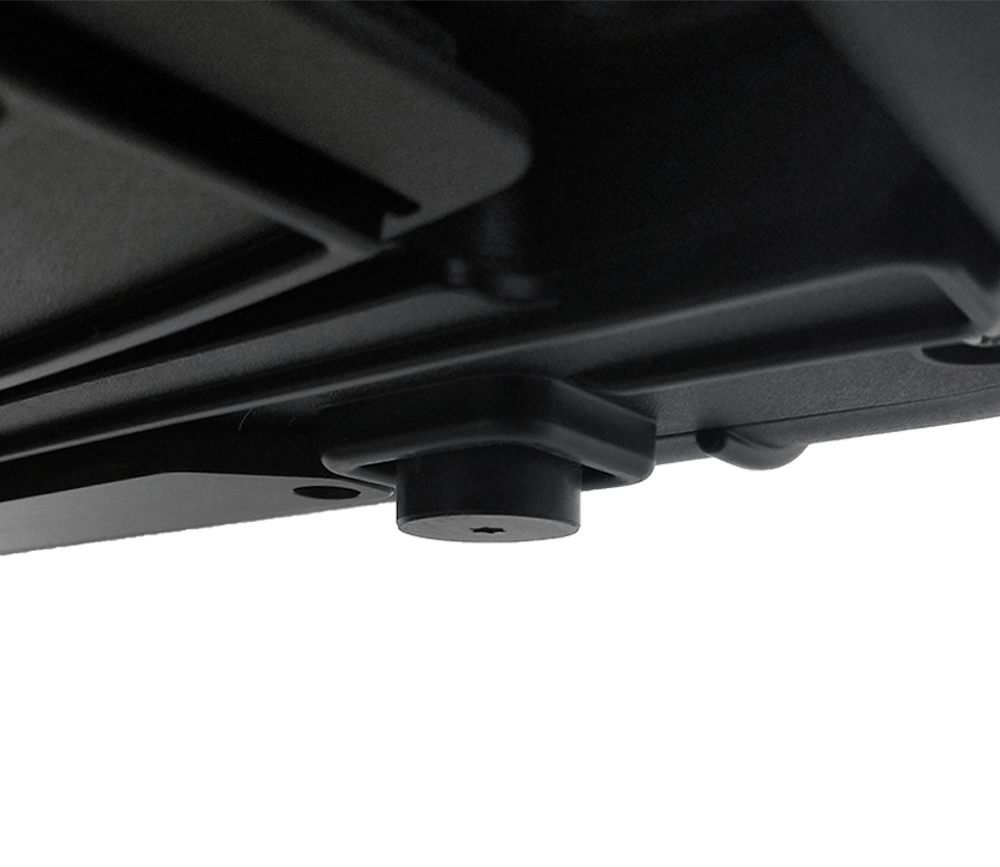 Equipped with longer feet to rest properly with a QRP plate mounted underneath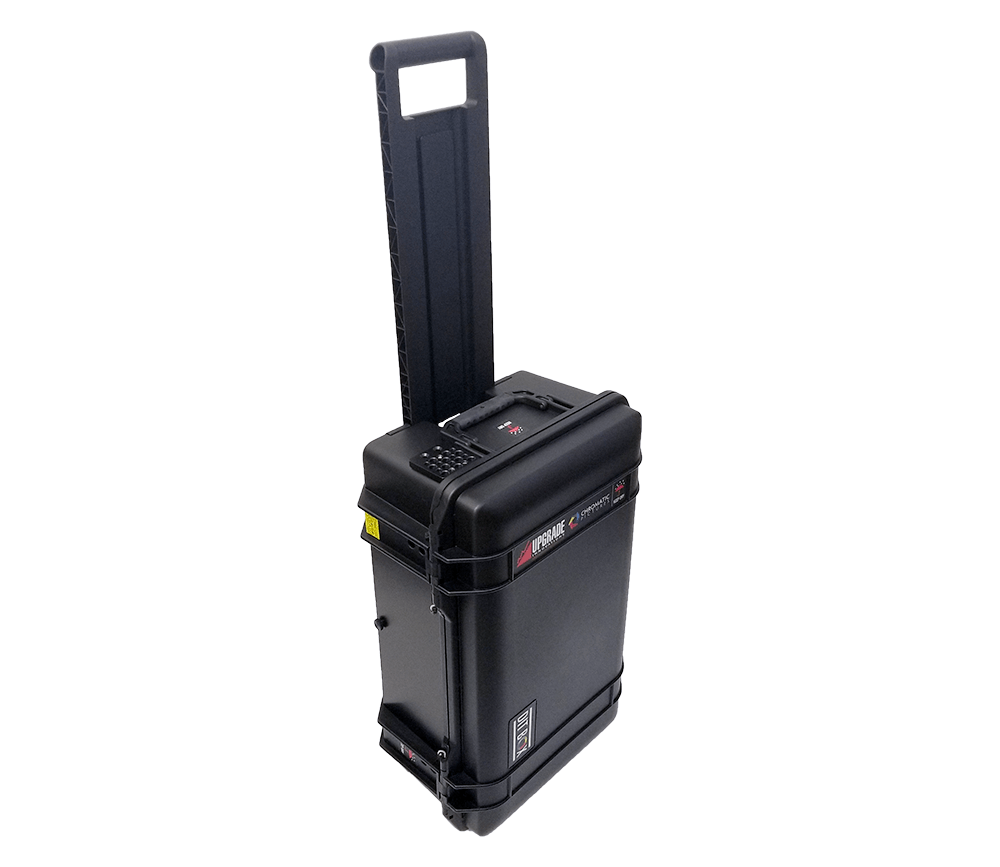 Modified Pelican Air 1535 still features the integrated case features for transport.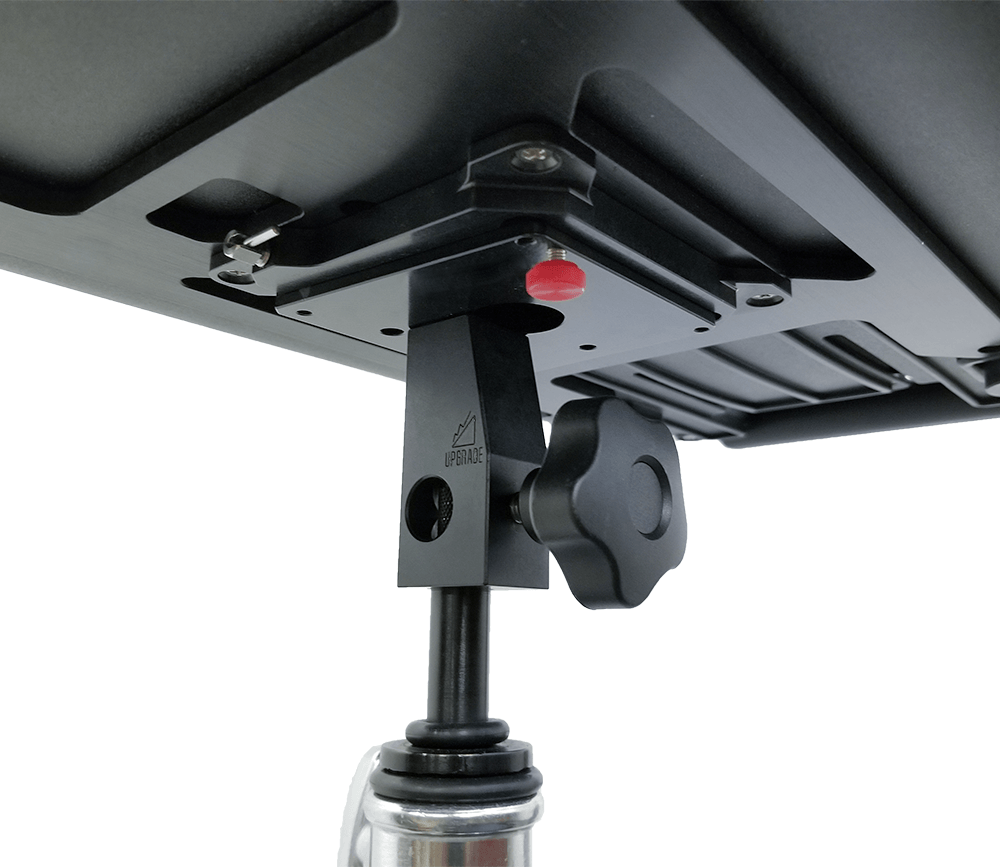 Option to mount a QR VESA Monitor Plate to bottom bracket and mount to a Male QR Spigot Adapter. Also, option to mount a Ronford Baker QRP to bottom bracket.
Option to add QR VESA Monitor Plate to Laptop Tray to mount to a QR spigot adapter.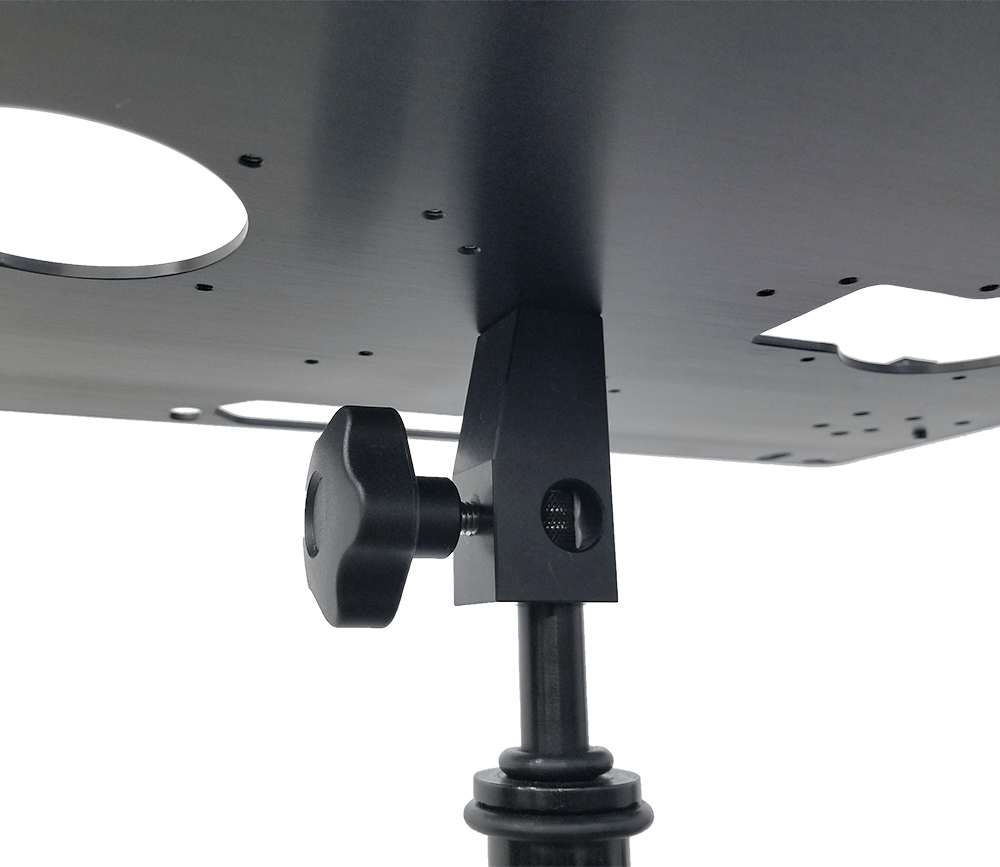 Option to add spigot adapter to Laptop Tray
Option to add Non-Twist Cinelock Cradle for non-twist mounting to laptop tray via ARRI pin-lock  or 1/4-20″ and 3/8-16″ patterns.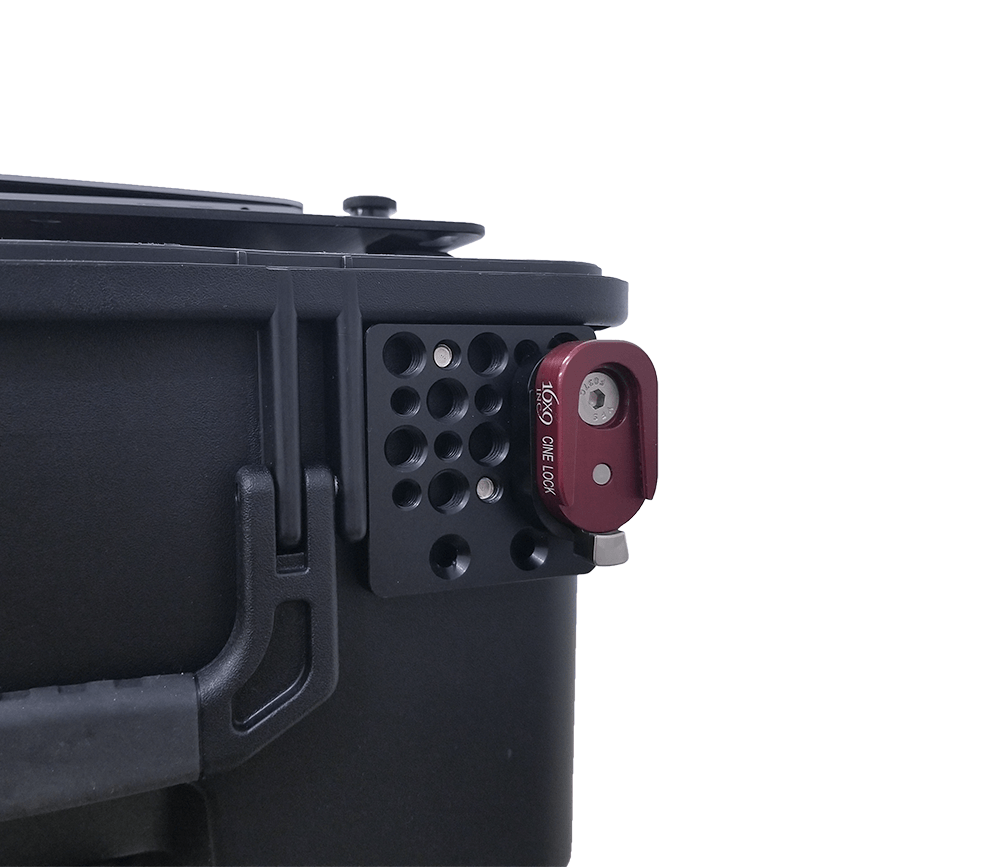 Option to add Non-Twist Cinelock Cradle for non-twist mounting to side mounted cheese plate.
Option to add the Rudy Arm – Articulating Arm for mounting small accessories