Ruckus R710 Mounting
The mounting plate engages into slots on the back of the Ruckus unit, engaging the locking latch with custom screw heads.
Note: due to dimensional tolerances of the Ruckus housing, custom screw heads are simply parked in the mounting holes on our mounting plate. Users will need to adjust screw depth to fit their Ruckus unit. Users should be aiming for a slip fit for the screws to engage with the slots on the Ruckus unit.
Once installed, additional screws/washers are provided to act as secondary stops to hold the Ruckus unit to the mounting plate
Battery Plate Mounting Patterns
The Ruckus R710 Battery Mounting Plate is outfitted with an array of M3 battery adapter plate mounting holes for Gold Mount, V-Mount and Micro Mount patterns.
Two lengths of M3 screws are provided as different battery adapter plates have varying counterbore depths.
Mounting to Mafer Clamp
M5 and 1/4-20 flat head mounting screws are provided for mounting plate to a Mafer Clamp.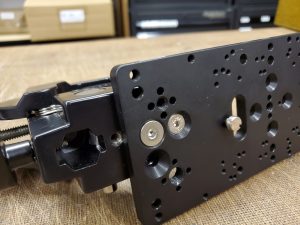 Solidly built with premium 6061 aircraft aluminum, Mil-Spec anodizing & stainless steel hardware.
Made in Canada. NAFTA Qualified. CETA Qualified.